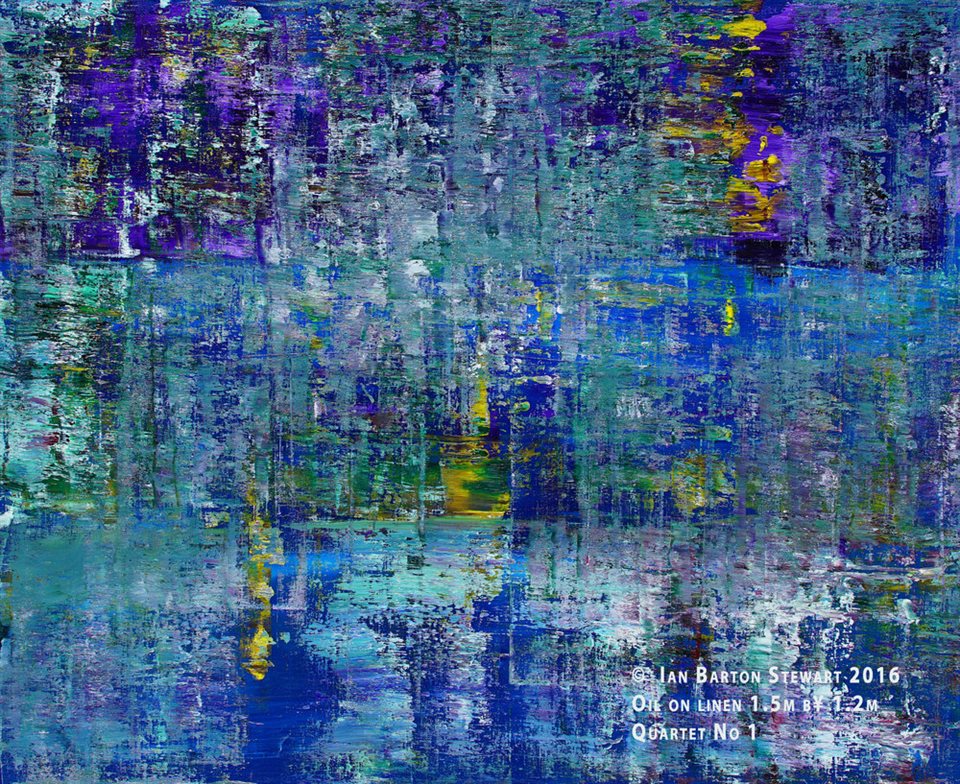 A series of paintings inspired by Beethoven's Late String quartets, JS Bach's Goldberg Variations and TS Eliot's Four Quartets

REFLECTIONS ON WATER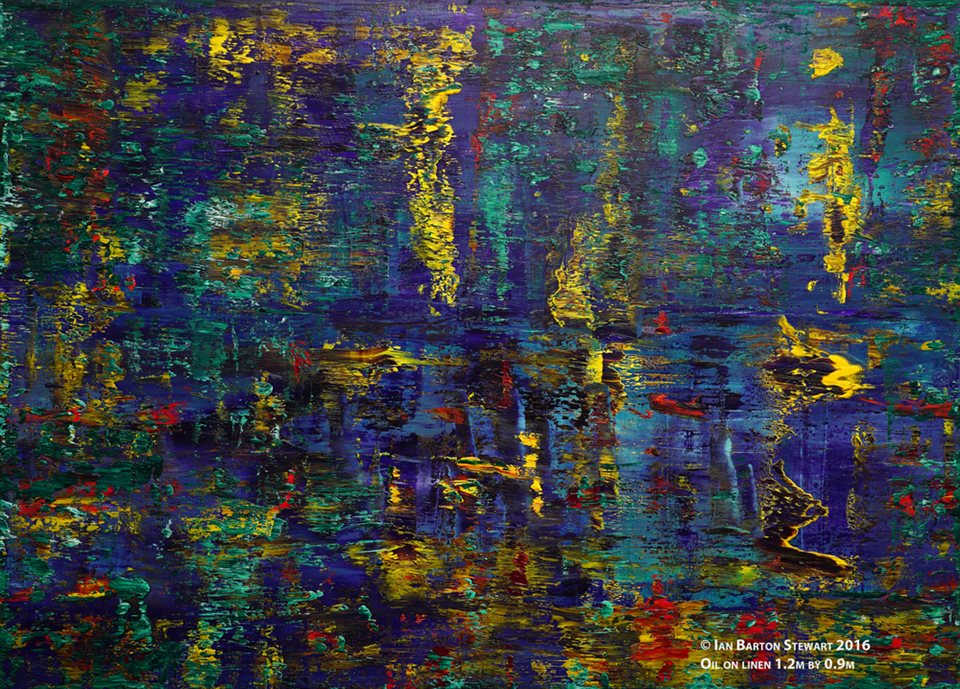 Reflections on Water
Oil on linen 1.2m by 0.9m
Ian Barton Stewart 2016
Please note shipping (including insurance) with a reliable and prompt art specialist shipper is available to anywhere in the world at modest cost. All paintings are signed by me and the copyright notice does not appear on the paintings.
Reflections on Water
Destined to become regarded as one of the masterpieces of the 21st century, Reflections on Water is a painting I completed in early 2016. It is small for me, being 1.2m by 0.9m, but compresses much into this space. It is a painting that invites reflection and contemplation. Not merely is it a painting of reflections on water, but a painting of our experience and thoughts when we take the time to contemplate the beauty of the world around us.
Falling Water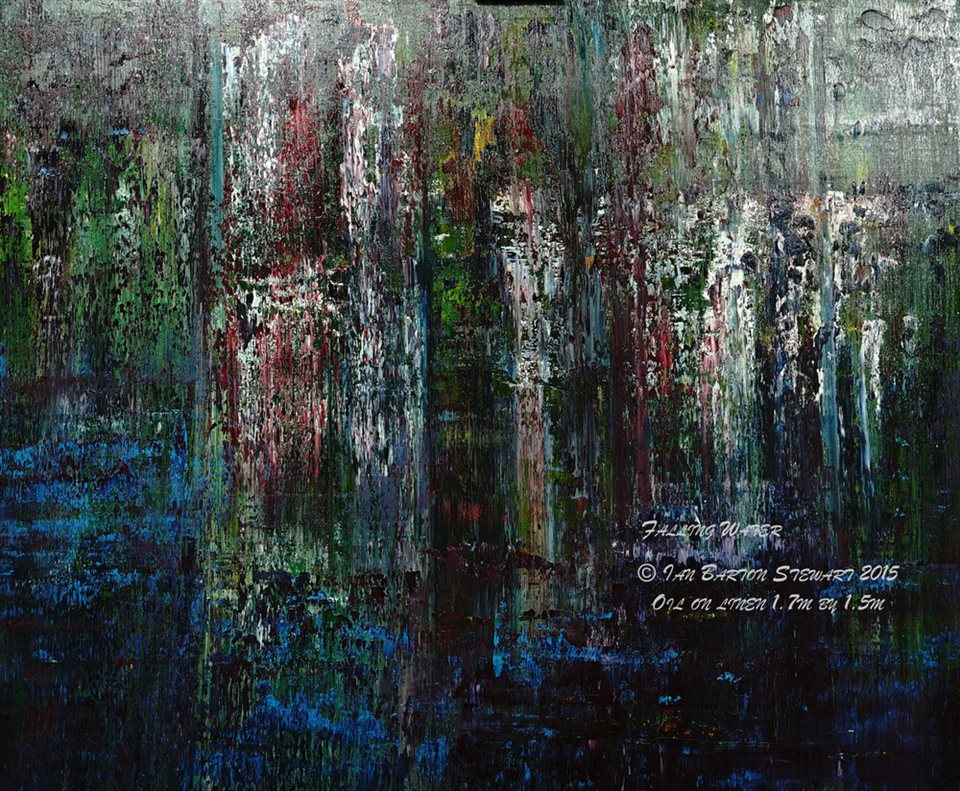 Falling Water
by Ian Barton Stewart 2015
FALLING WATER
This work is painted in oils on linen. It is a large painting about 1.7m by 1.5m. I like large paintings because they draw you in. With a small painting you look "at" the painting, but with a large painting you feel "in" the painting. A large painting has a presence that a small painting usually lacks, and a large painting speaks to the viewer ... it is like a conversation you have with a painting.
This painting evokes falling water in at least three aspects. Falling water is a visual phenomenon... something we see with a waterfall or a stream. The verticality of the work captures this quality of water and the cascading of a waterfall. Falling water also evokes forests, and this painting is complex and rich in visual phenomena, just like a forest. Falling Water is also the name of Frank Lloyd Wright's masterpiece.
But falling water also evokes the source of life, fertility, and mystery. My painting evokes a cathedral as one looks up and appears to soar towards the sky.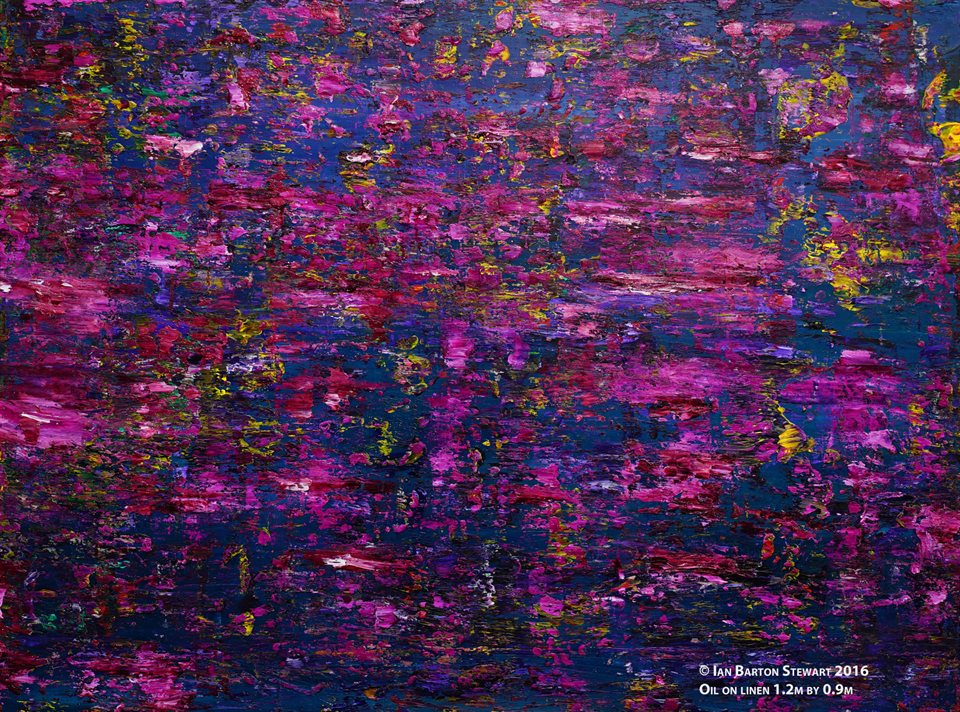 Water Lilies 2016
Oil on canvas 1.2m by 0.9m
Ian Barton Stewart
Water Lilies
A very fine and uplifting painting. Of course, Monet painted many Waterlilies or Nymphaea, the finest of which are in L'Orangerie in Paris, and the Kunstmuseum, Zurich. But his smaller water lilies are far less impressive. Whilst I sometimes paint large works, I enjoy working on small canvases such as this one, for they present a huge challenge. Rothko said that with a large painting one is in the painting, but with a small painting one looks at it. There is some truth in what he said, but one can be in a small painting too. It is a lot harder to make a small painting that invites you into it, that invites you to gaze at it and come back for more. This is such a painting.
IAN BARTON STEWART – ART, MUSIC, AND LITERATURE